Top |
White Peaches, Mango, Lemon
Middle |
Caramel, Wild Strawberries
Base |

 

Brown Sugar, Vanilla Bean
Details & Ingredients

Diffusers are perfect for continuous, hassle-free fragrance. The naturally-harvested rattan reeds absorb the oil and slowly release fragrance throughout your space.

Contains a blend of naturally-derived and man-made fragrance oils.

FLORAL DIFFUSER

Includes 4 rattan reeds with sola wood flowers. Lasts 6-9 weeks.

REED DIFFUSER

Includes 9 rattan reeds. Lasts 3-4 months.
Instructions

Insert rattan reeds directly into the bottle to enjoy hassle-free scent.

You can remove reeds as needed for a more subtle scent or for smaller spaces.

The fewer reeds used, the longer the oil lasts.
Safety & Warnings

Keep away from direct sunlight and all other heat sources to avoid drying out the reeds.

Our diffuser oils are not to be used with aromatherapy diffusers or humidifiers.

If the oil should spill, clean up immediately, as the oil can cause damage to some finishes.

Do not consume.

Avoid contact with skin.

Keep out of reach of children and pets.
Regular price
Sale price
$24.00 USD
Unit price
per
Sale
Sold out
View full details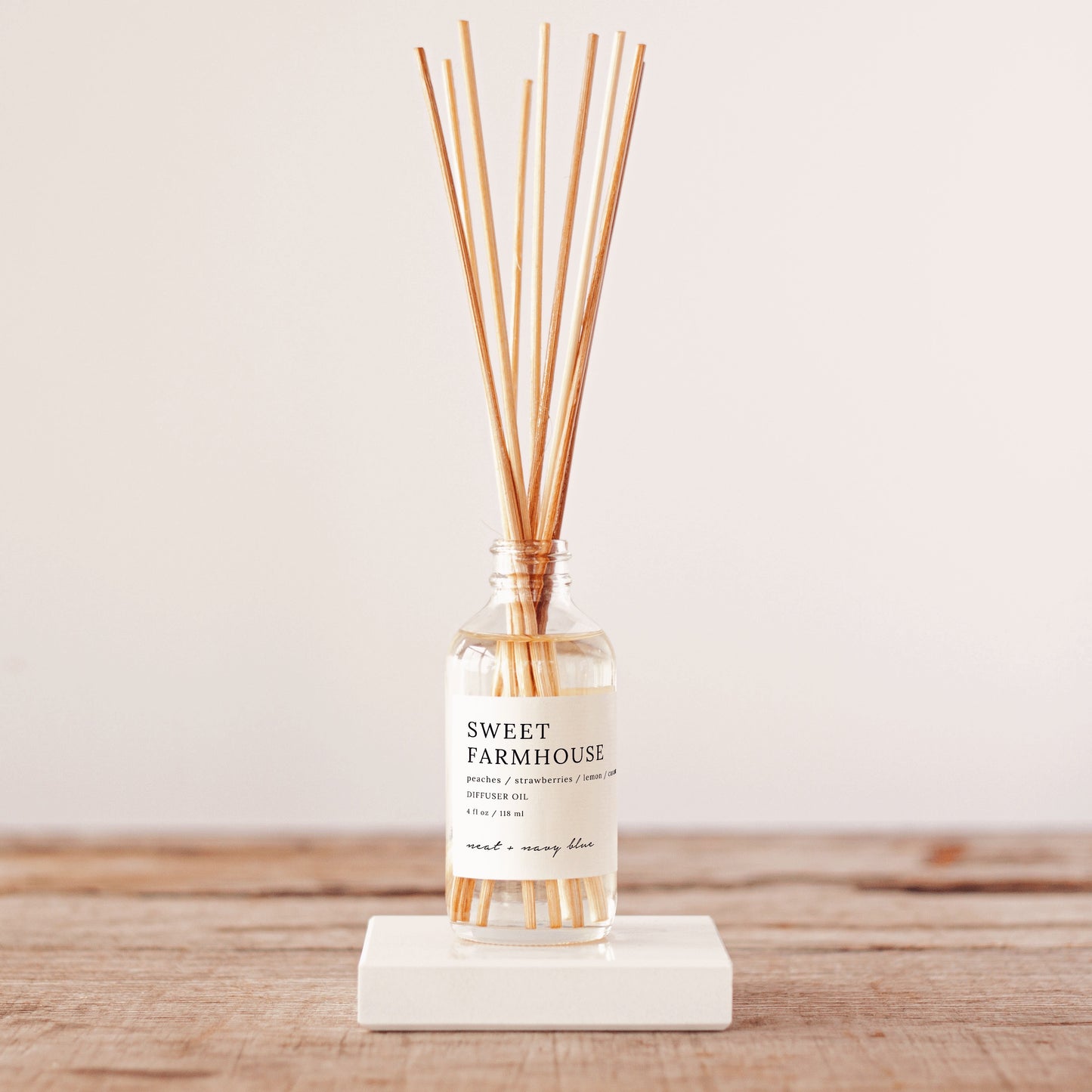 Love this scent!
I'm so happy Neat & Navy Blue is back! I fell in love with the Sweet Farmhouse scent diffuser and ran out. My house smells wonderful again ❤️
Sweet Farmhouse | Reed Diffuser
Diffuser
Love me some sweet farmhouse !! I want my whole house to smell like it so i have almost one in every room !!!! Fast shipping too !!!
Love the scents!!!
I had purchase these before but the store I buy them no longer carry them. I am so glad I found your company that sell these. Sweet Farmhouse diffusers are my favorite. I use them in my bathroom and bedroom. It smell so good and very comforting to walk in.
I will continue buying them from you. Thank you. Overall, from online to receiving the package are awesome.
Doesn't disappoint!
Smells wonderful. And the reed diffusers last forever!
Deliciousness
Love this smell! Warm and spicy!
Best Reed Diffusers Ever!
I purchased these because of a recommendation from a YouTuber I follow. They are heavenly! My entire house smells so amazing! I can't wait to repurchase more, try new scents and also give as gifts.
Long-lasting scent!
I'm totally in love with Sweet Farmhouse anything, really. Have to admit, though, I think I'm addicted to the diffusers. Not only does it smell amazing, it lasts a long long time; much longer than I was told it would. Very impressive! Great bang for your buck!